Make your piece unique thanks to the free hot stamping! On this model, the hot stamping is done on the front at the top.
You can add a personalized word or choose to continue without personalization when adding your cart.
James, a leather pouch for carrying your tablet. Inside, there is an extra pocket to hold your passport or phone.
1 inside pocket
Lining : 65% polyester, 35% cotton
Dimensions : 30 x 22 cm / 12 x 8.5 in
Delivered in a dust bag
COMPLIMENTARY MONOGRAMMING
Initials, a date or a meaningful word… Make your leather pieces truly unique with our complimentary monogramming atelier.
Once personalised the piece can no longer be returned or exchanged.
Only the following characters are accepted: letters, letters with accents and certain special characters (-,&,'). To add a ★ type * on your keyboard and to add a ♥ type ?.
Deliveries can be longer.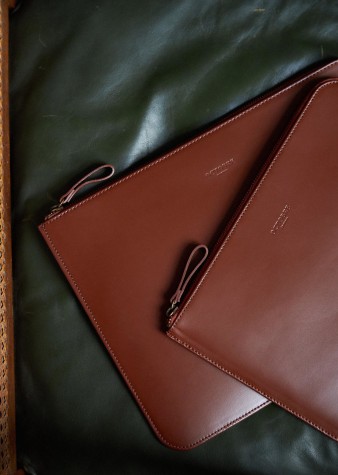 James Tablet Pouch
Colour :

Camel Leather

Size :

??
---